5 reasons why Hue becomes the hottest tourist destination this summer
No need to go far, Vietnam also has countless interesting destinations waiting for you to discover. If you still don't know where to go this summer that is both beautiful and safe, the following 5 reasons why you must "wrap a towel" to come to Hue right away.
Recently, Hue has become a popular destination. From Facebook to instagram, the images of the ancient capital are shared by hot travel bloggers. It is easy to understand, because all the reasons below will convince you to come to Hue, at least once.
The reasons why Hue is the place you should choose to go
1: Appeared in many music videos, movies
Recently, the places of Hue have been chosen by many Vietnamese artists as the setting for filming MVs, dramas, etc. Most recently in the MV "Can't be together for a lifetime" by young singer Hoa Minzy making the online community excited about the beauty of this place.
Besides the attraction of content and vocals, the MV also attracts viewers' attention by the beauty of famous landmarks in Hue such as the Citadel, An Dinh Palace, An Cuu River,... Or the images of Hue Hue's appearance in the film "Eyes Knows" released earlier also made viewers feel excited and exclaim: "Hue is so beautiful."
Right after it was released, many tourists, especially young people, came to Hue and list Hue on the must-visit list this summer.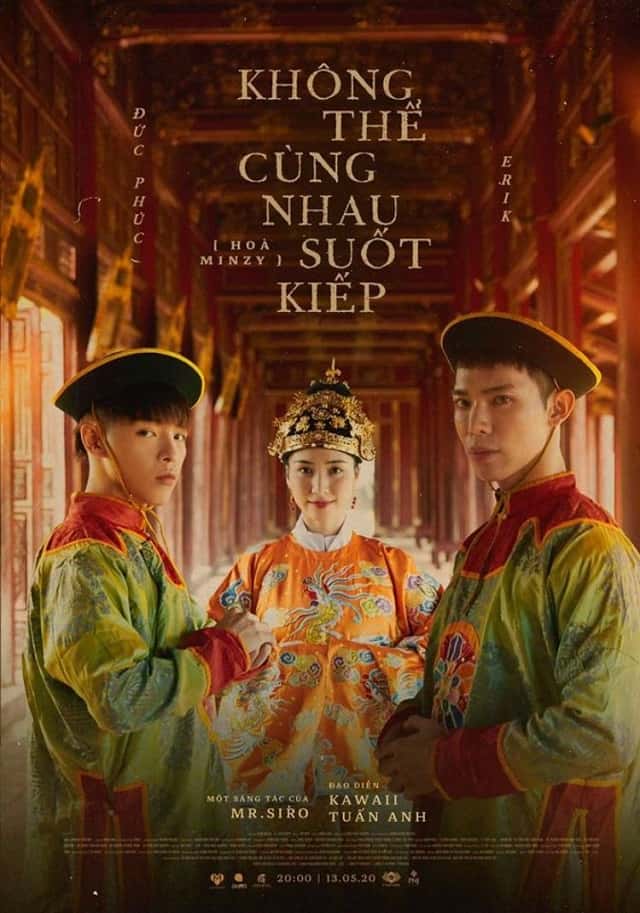 Hue was chosen as a filming location for many music and movie MVs
2: Sanctuary for the team addicted to virtual living
If you are a fan of photography, the beautiful photo corners in Hue are definitely not to be missed. With "dozens" of famous landmarks, when you come to Hue, you just need to raise your phone and you will have beautiful photos to take home.
Tell you some of the most checked-in Hue tourist destinations this summer!
An Dinh Palace
An Dinh Palace located at 179B Phan Dinh Phung, Hue is one of the most popular tourist attractions in Hue this summer. An Dinh Palace possesses a unique architecture, bringing both ancient and modern features with a modern Western direction. Coming here, you not only have the opportunity to learn about history but also take home beautiful photos.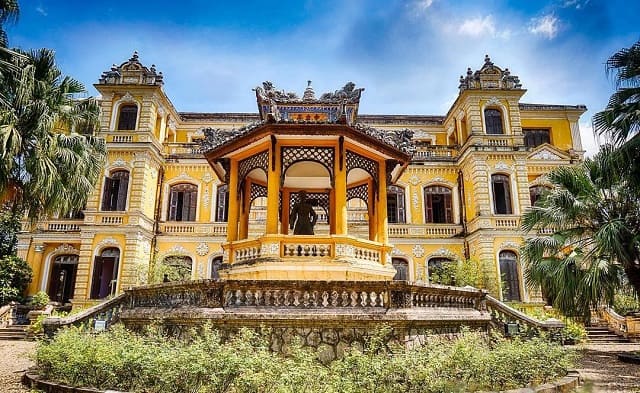 An Dinh Palace Hue
Modern interior
It is a place that is quite "familiar" with those who have been to Hue. With an ancient and bold shape of the old capital, this is considered a "paradise for virtual teams" in Hue.
Just cleverly choosing the outfit, acting a little deep, you have thousands of photos to show off to your friends.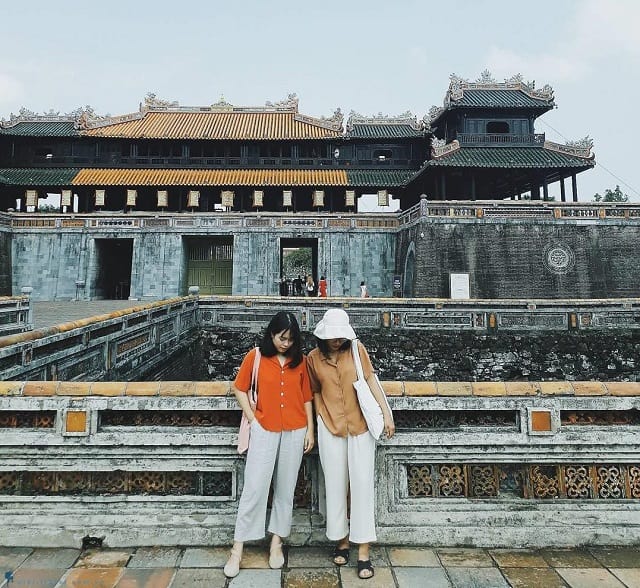 Hue Citadel
Thien An Hill - Thuy Tien Lake
Thien An Hill located next to Thuy Tien Lake is one of the attractive destinations not to be missed when coming to Hue. The hill is covered with immense green of pine trees, this place is also fondly called "miniature Da Lat" by many people. Thuy Tien Lake is a large, clear lake that is led from the Perfume River, the tourist area here has been suspended for a long time. But it is because it is "abandoned" that makes this place full of ghosts, young people especially love this place because of the cool background when on the picture.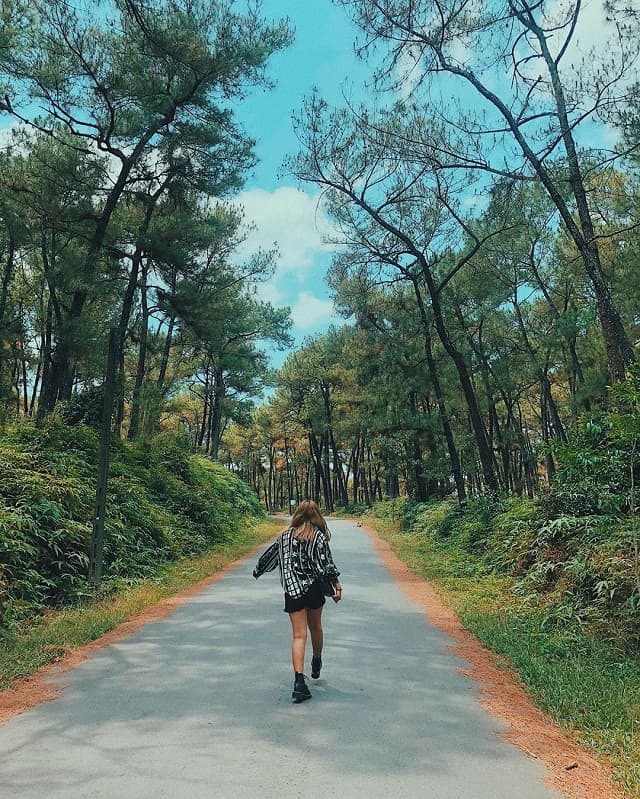 Thien An Hill Hue
Thien Mu Pagoda
Thien Mu Pagoda stands out with its towering Phuoc Duyen tower. In front of the pagoda is the Perfume River flowing gently. This pagoda is considered as one of the symbols in Hue. Just upload a photo of Thien Mu Pagoda, your friends will know immediately where you are.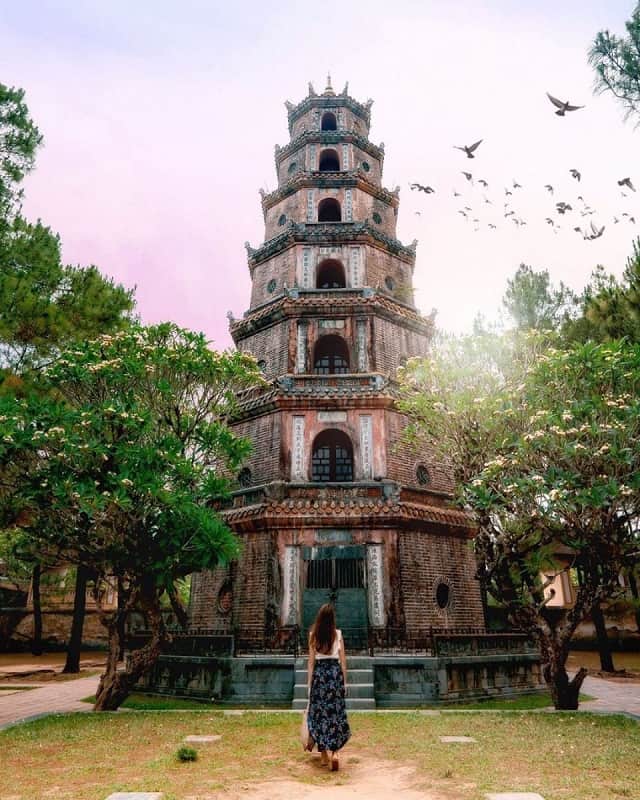 Thien Mu Pagoda Hue
Thuan An Beach
Thuan An beach is located about 15km east of Hue city. This place has clear and cool sea water, to admire the full beauty of Thuan An beach, you should take advantage of coming here at dawn or at sunset. The scene here will leave you in awe. Don't forget to save your best check-in photos on this beach.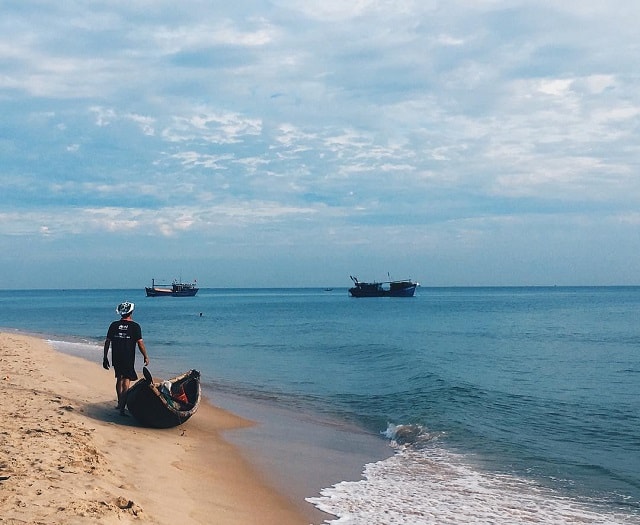 Thuan An Beach
3: Eat a full stomach in Hue with only a few hundred thousand
If you have come to Hue, you definitely cannot ignore the cuisine of this place. Food in Hue is not only famous but also famous for its cheap price. With only a few hundred thousand you can fill your hungry stomach already. So what is the best thing to eat when coming to Hue?
Mussel rice
Mussel rice is a rustic dish in Hue, but it is also a very typical dish of this place. It is not difficult for you to come across mussel rice shops along the way, in small markets or even in luxury restaurants, mussel rice is still an indispensable dish.
After the rice is cooked and cooled, it is served with mussels, roasted peanuts, tofu, fish sauce, and assorted raw rays. When eating, you will see the sweetness of mussels, the rich taste of shrimp paste mixed with the freshness of raw vegetables. A full bowl of mussel rice usually costs from 15-25k very cheap, right?
To enjoy this dish of the ancient capital, you can visit the following addresses: The shop in Con Hen, Vi Da, Little sister shop in the alley of Pham Hong Thai - Truong Dinh intersection, the sidewalk of Tran Nhan Tong street, near Tay Loc market, Han Mac Tu street area, ....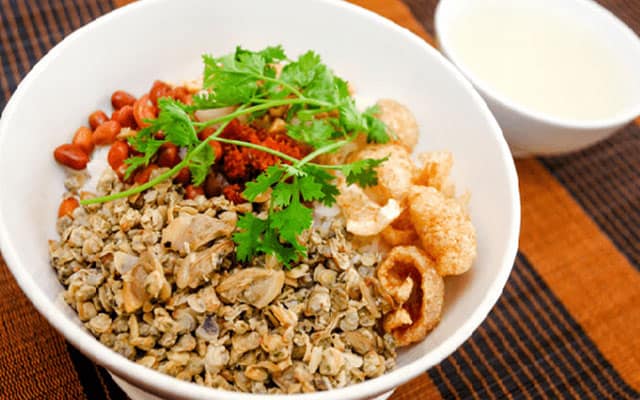 Hue mussel rice
Bun Bo Hue
Bun Bo Hue has long become a "brand" of its own. Bun bo is sold in many places, not only famous in Vietnam but also known by friends around the world. If you have ever enjoyed Hue beef noodle soup somewhere, there is no reason to refuse a bowl of authentic Hue beef noodle soup.
Compared to Hue beef vermicelli sold in other places, Hue standard beef vermicelli uses small noodles, in the bowl there will be a piece of pork leg, pig's blood, spring rolls, sliced ​​beef,... Especially the plate of raw vegetables served with it. fresh. Each bowl of Hue beef noodle soup costs about 25-30k, so you can eat your fill without spending much money.
Suggest you some places to eat delicious and famous Hue beef noodle soup such as: Hue beef noodle shop at 13 Ly Thuong Kiet, next to Union guesthouse, Bun Le on Dien Bien Phu street, Bun Ba My at 71 Nguyen Cong Tru, Quan Bun Ba Phung on Nguyen Du street,…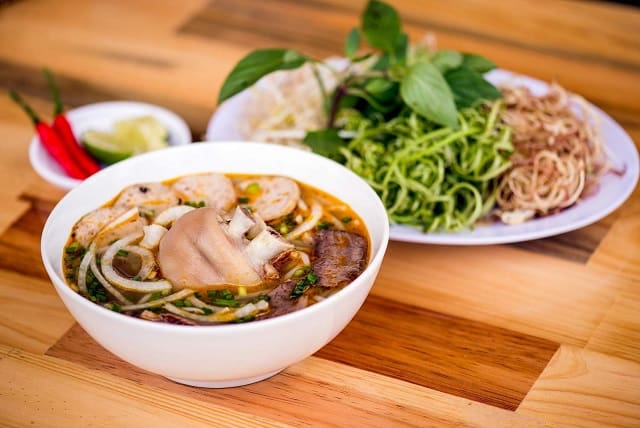 Bun Bo Hue
Bread soup
If you travel to the Central region, it is easy to see street vendors selling banh chung on the street or shops selling this dish. However, banh chung in each place has different flavors that are unmistakable. Banh Canh in Hue is famous for its eye-catching broth color. Because when cooking, Hue people often mix it with cashews to make the water more beautiful. Hue cake soup also has many different types, depending on your taste, you can order a bowl of your favorite cake such as: crab cake soup, snakehead fish soup, ...
To talk about Hue pancakes, Nam Pho and Ba Doi soup are mentioned the most. Nam Pho soup cake is a typical soup cake of Nam Pho people, Phu Vang district. Banh cuon is usually sold at street vendors in the early morning or late afternoon. When it comes to Banh Canh Ba Doi, it refers to the famous Banh Canh shop located at the end of a small alley on Dao Duy Anh Street.
Some other places to enjoy delicious pancakes in Hue for your reference such as: Banh Canh shop on Pham Hong Thai Street, Thuy Duong snakehead fish cake soup shop in Huong Thuy, Phan Boi Chau slope soup, Truong An, etc. .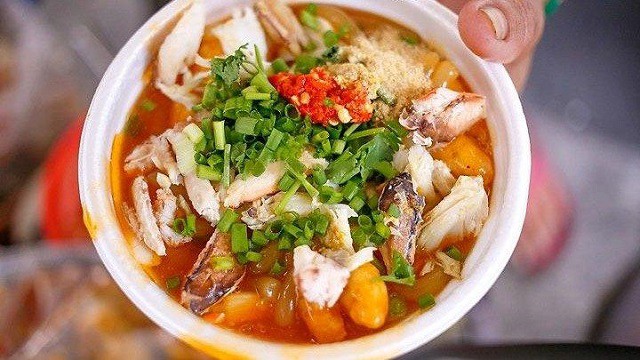 Hue crab cake soup
Alley tea
Alley tea has become a "specialty" that tourists are extremely interested in when coming to Hue. Located in small alleys in Hue, tea stalls with dozens of varieties and colors are extremely attractive. For royal tea alone, there are 36 types of tea, not to mention other types of tea. If you come to Hue on hot summer days, don't forget to sit back and enjoy a cup of sweet and cool tea.
The most famous alley tea shop in Hue is Mrs. Linh Lan's tea shop located inside alley 277 Hung Vuong Street. This is a long-standing tea shop with a typical Hue flavor, the ingredients are also carefully selected and processed. In addition to Ms. Linh Lan's tea shop, you can also enjoy Hue tea at mobile tea shops near Tuoi Tre park, Cung Dinh tea 31 Nguyen Hue, Sao tea on Phan Boi Chau street, ....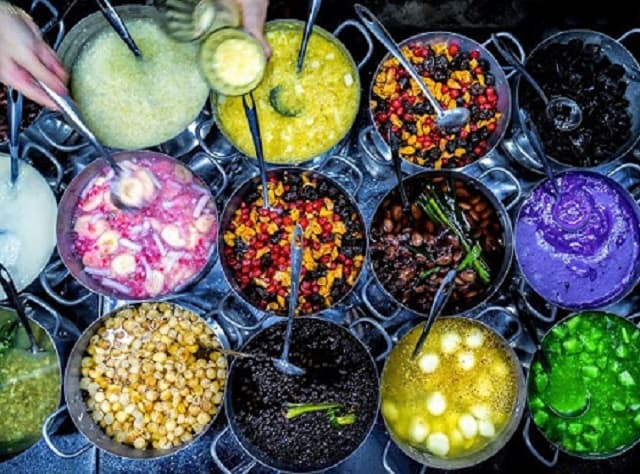 Hue alley tea
What to eat in Hue? There are also billions of other dishes such as spring rolls, Hue cakes, vegetarian rice, wet grilled meat cakes, etc. Come to Hue this summer to have a full meal.
4: Cheap travel costs
One of the reasons why you should choose Hue as your next destination is the low cost of travel. Compared to other domestic tourist destinations, the cost of Hue tourism is usually much lower. This is especially important when the economic situation is in recession after the current Covid_19 epidemic.
Flight routes to Hue are expanded and fares are usually not too high. In particular, the ticket price to Hue is usually very cheap if you go from September to November. Airlines as well as travel companies often launch attractive promotions to help you save significantly on expenses. fees for your trip.
Usually when traveling to Hue, tourists will often go to Da Nang, Hue, Hoi An or Ly Son. To save money on your trip, you can take advantage of "hunt" for cheap Hue travel combos including round-trip airfares, hotels, sightseeing tickets,....
5: There are many lovely hotels and homestays
The fifth reason why Hue is so popular is that it has many lovely and dreamy hotels and homestays for you to really relax during your trip. Compared to other tourist destinations, the price of hotels and homestays in Hue is often cheaper. I used to stay in a Hue homestay with full facilities, convenient for travel, clean and spacious rooms, but the price is only about 400k/night for a family room.
Suggest some good quality homestays and hotels in Hue such as: Muong Thanh Holiday Hue Hotel, The Sunriver Boutique Hotel Hue, Déjà Vu Homestay, Mosaic Garden Homestay, Sayhi homestay Retreat,....